CONVERSATIONS: Singles Discussion Circles
Conversations Series #2
October 12 – October 29, 2020
Mondays and Thursdays online 
7:00pm-8:15pm CST
"Conversations" are 3-Week discussion circle courses that meet twice a week online, with a 15 minute talk by Ustadh Mahad and Ustadha Safiya, followed by breakout discussion circles on the topic to reflect, discuss and connect with other singles. 
Conversations #2 Topic: Rasulullah (S)'s Married Life
Singles ONLY
Age: 20+ (suggested)
Maximum of 48 participants per 3-week course
Cost: $40 for the full 3-week session
Initial registration is catered to Texas residents (suggested). We hope to expand to include other locations and age groups in the future inshaAllah.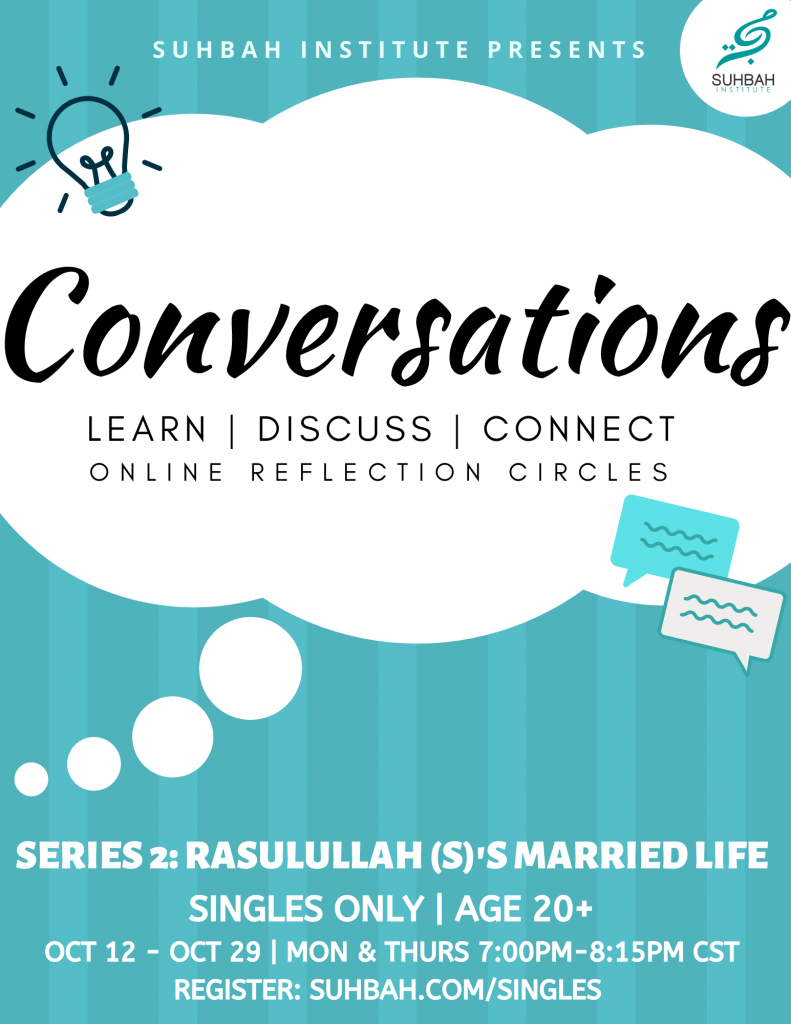 Singles Marriage Prep: Finding the One
RECORDING NOW AVAILABLE!

4-hour online Singles Marriage Prep
with Ustadh Mahad Qamar and Ustadha Safiya Ravat
• Am I ready? Parents' involvement
• Navigating expectations from parents, culture, and society
• Where to find a spouse
• How to approach someone for marriage
• What to look for in a partner
• Ways to get to know someone: DOs and DON'Ts of courting
• Pre-Marital Training overview
• Questions to ask your potential spouse BEFORE getting married
• Q&A

Cost: $25 
Financial Aid Available 
For questions, email info@suhbah.com