CONVERSATIONS: Singles Discussion Circles
WHAT:
"Conversations" is a 2-3 week discussion based program for singles. After a 15 minute talk conducted by Ustadh Mahad and Ustadha Safiya, attendees enter smaller breakout discussion groups led by trained moderators. In these groups – singles get to know one another, reflect over the topic, and enjoy engaging conversations. After the program, a matching form is sent out to allow participants to continue the conversations on their own.

Conversations Topic: Names of Allah
WHERE: 
Online over Zoom
WHO:
Suggested Age groups

Singles ages 20-32

Singles ages 27-35+
Attendees can select whichever group they are comfortable in

WHEN:
Mondays and Thursdays
7:00pm-8:15pm CST

UPCOMING SESSIONS
GROUP 1: Age 20-32 
March 29th – April 8th
(max: 32 participants)

May 31st – June 17th
(max: 48 participants)
GROUP 2: Age 27-35+
May 17th – May 27th
(max: 32 participants)

COST & DEADLINE:
Registration Deadline: 48 hours before session

Cost: $40

Financial Aid Available
 Questions/Financial Aid Request: Email info@suhbah.com

Alhumdulillah, since August 2020, after 3 sessions of Conversations, we have had 2 marriages and 1 engagement – and many more TBA – MashaAllah!
SIGN UP BELOW. If spots are filled or the start date has passed, you can still sign up below to be added to the waitlist for our next Conversations series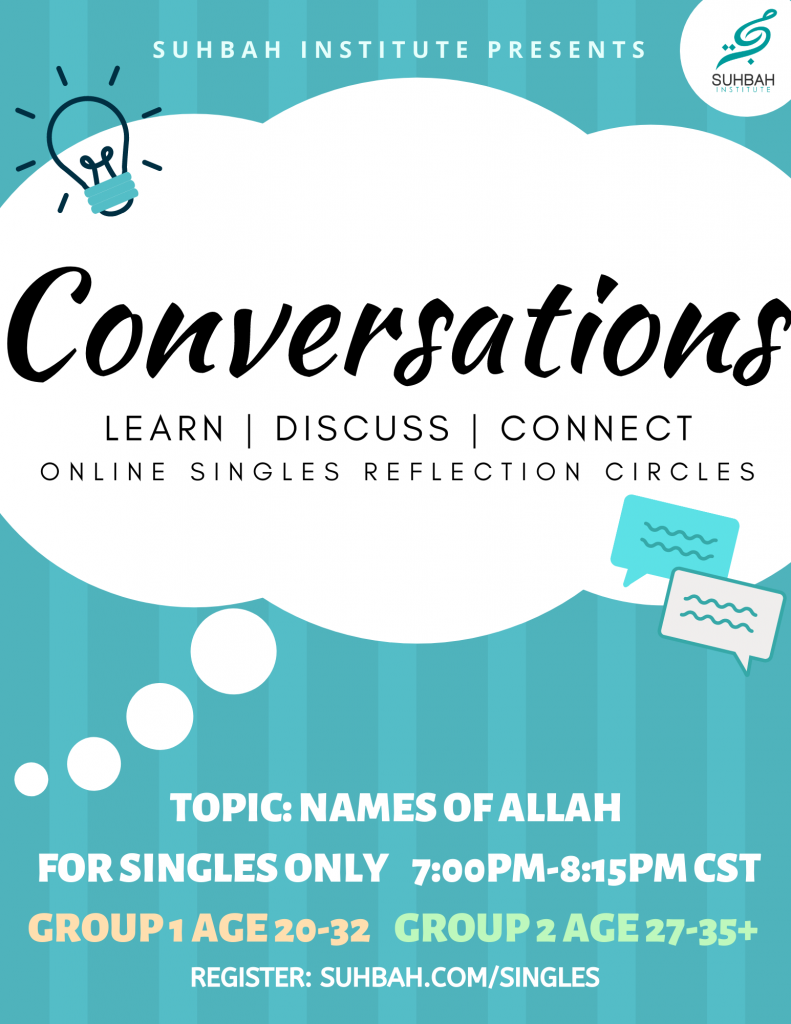 Singles Marriage Prep: Finding the One
RECORDING NOW AVAILABLE!

4-hour online Singles Marriage Prep
with Ustadh Mahad Qamar and Ustadha Safiya Ravat
• Am I ready? Parents' involvement
• Navigating expectations from parents, culture, and society
• Where to find a spouse
• How to approach someone for marriage
• What to look for in a partner
• Ways to get to know someone: DOs and DON'Ts of courting
• Pre-Marital Training overview
• Questions to ask your potential spouse BEFORE getting married
• Q&A

Cost: $25 
Financial Aid Available 
For questions, email info@suhbah.com