Suhbah MARRIAGE PREP – STRONG COUPLES is a certified Islamic Pre-Marital Training curriculum that brings together the best of two of the top premarital education curricula (Prepare/Enrich & SYMBIS) and is infused with Islamic principles and Fiqh of Marriage to prepare couples with skills and education to create sustainable, healthy, strong marriages.
The sessions utilize fun and engaging activities where couples not only learn tips from the leading marriage researchers and sunan of Rasulullah (S), but they also actively solve real conflicts with their partners, in class, in real time, during the break out sessions.
The SUHBAH pre-marital curriculum has been certified and verified by the state of Texas's Healthy Marriage program, which means that anyone in Texas who takes the SUHBAH course gets $60 off their marriage license and no 72-hour waiting period as long as they complete the full 8 hours.
The divorce statistics in the the Muslim community are at over 33% and even though Allah tells us in the Quran to seek help from mediators when the husband and wife are facing trouble (Surah Nisa, ayah 35) we STILL don't seek help. We have to fight the stigma in our community before the statistic rises and More families are torn apart!
Instead of allowing couples to dive into the deep end hoping they don't drown – in regards to something that Rasulullah (S) called "half our faith", we should proactively educate and train couples so they are empowered and equipped with the skills to make good decisions in this beautiful – yet difficult – union of marriage.
SUHBAH MARRIAGE PREP will take place several times a year in group sessions at various locations indicated below. Registration, payment, and attendance of both engaged individuals is required.
The classes typically take place Fridays from 6pm-9pm and Saturdays 10am-3pm (unless otherwise noted). See the schedule below to find a date and location best for you and your fiance/spouse.
Online Version Coming Soon!
2020 Dates
January 17-18 2020 – ISGH River Oaks Islamic Center, Houston, TX

February 7-8, 2020 – ISGH River Oaks Islamic Center, Houston, TX

March 27-28 (ISGH River Oaks Islamic Center – Friday & Suhbah Center -Saturday) 
More dates coming soon inshaAllah…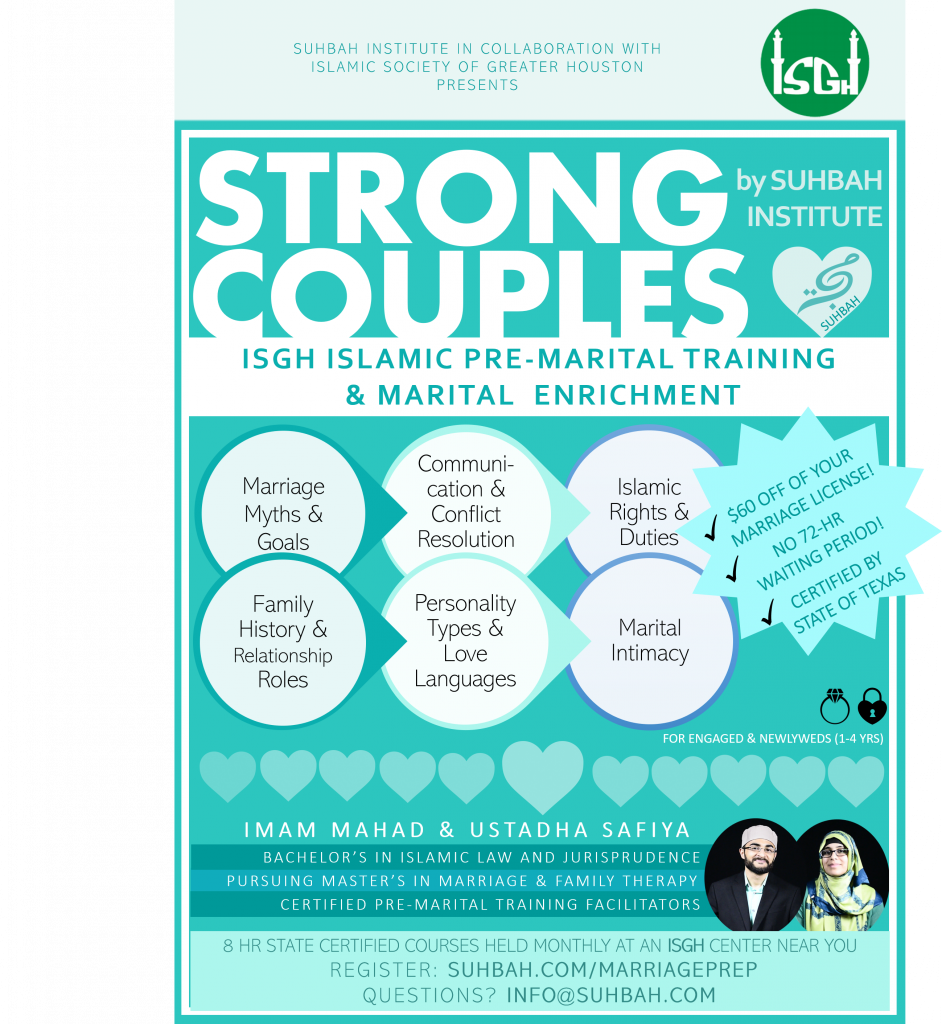 Suhbah Marriage Prep seminar will include:
8 hour curriculum that integrates two certified pre-marital curricula (PREPARE/ENRICH and SYMBIS) as well as Islamic principles and marriage fiqh
Certified facilitators will lead interactive activities and skill-building assignments that help foster communication and conflict resolution skills for couples
Main topics covered:

Islamic Rights And Responsibilities In Marriage
Breaking Down Marriage Myths
Communication Skills
Conflict Resolution Skills
Marital Intimacy
Family History Influences
Relationship Roles And Responsibilities
Personality Types and Differences and Languages of Love

As a registered and officially verified curriculum with the Texas county clerk pre-marriage department (Texas Twogether), couples who complete SUHBAH pre-marital training will receive up to $60 off their Texas marriage license fees, and the 72-hour waiting period for marriage license will be waived.
Access to additional private Pre-Marital training sessions if the couple chooses