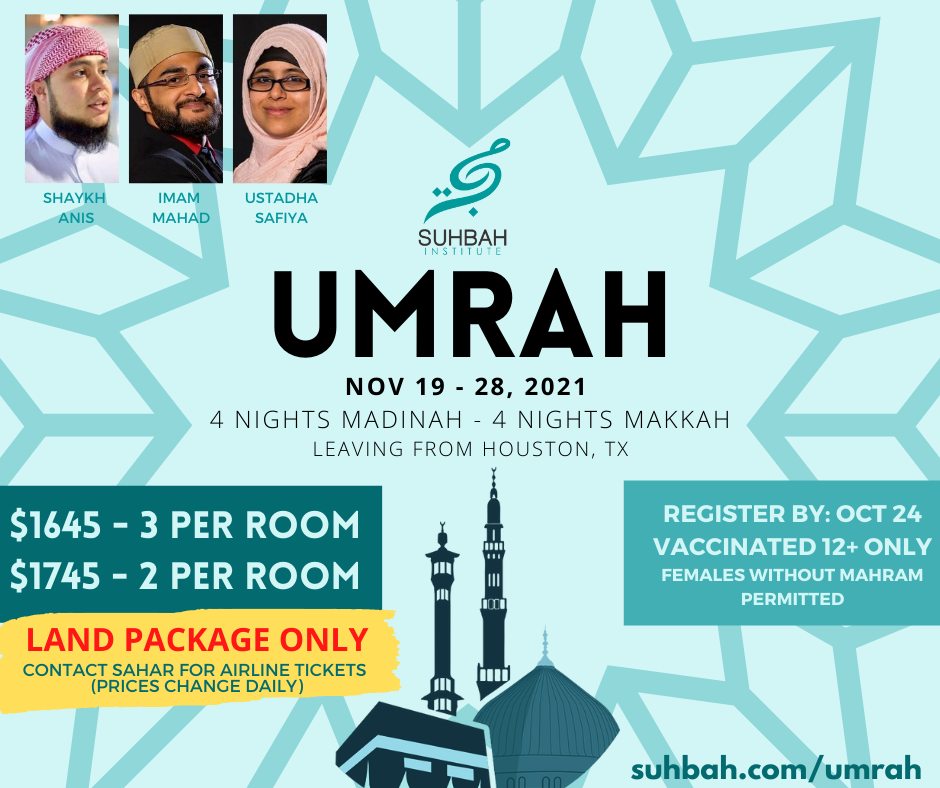 UPDATE: LAND PACKAGE
As we are closer to the date, we are now offering LAND PACKAGES ONLY (excluding airfare) at our fixed group rate.

You can either book your flight on your own, or book your individual airline ticket through Dar es Salam, but prices will change daily. Contact Sr Sahar of Dar el Salam at (866)327-7252 ext. 132 or sahark@darelsalam.com
FALL UMRAH DETAILS
Join Ustadh Mahad Qamar, Ustadha Safiya Ravat and Shaykh Anis ul Haque for Umrah this fall coordinated by Dar El Salam Travel!
In addition to Umrah, Makkah and Madinah, and visits to major landmarks, Ustadh Mahad, Ustadha Safiya and Shaykh Anis will conduct daily reminders and sessions for attendees. ABOUT THE INSTRUCTORS
WHEN: November 19-28, 2021
DEADLINE: Register by October 24th
WHO: Vaccinated 12+ Only*
*Women without Mahrams are permitted due to new Saudi visa regulations
WHERE: Departing from Houston, TX (airfare not included in the Land Package)
4 nights Madinah, 4 nights Makkah
If you wish to change your departure location or extend your trip (not guaranteed), reach out to the travel agent (details below).
FOR DETAILED ITINERARY and COVID REGULATIONS – click HERE
QUESTIONS? Reach out to – Dar el Salam's travel agent Sister Sahar at (866)327-7252 ext. 132 or sahark@darelsalam.com